Blog
Monday, 09 September 2019 00:00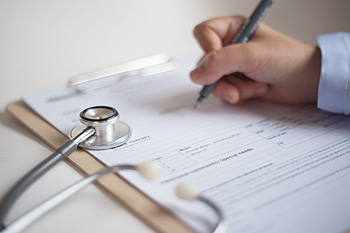 If you are experiencing an ailment that is related to the feet, you would most likely seek the professional advice of a podiatrist. This type of physician's expertise is in the care of the feet and ankles, and many podiatrists can perform foot and ankle surgery. People that choose this type of profession will typically complete three years of residency training, preceded by obtaining a bachelor's degree. Podiatrists have the choice to own or be a part of an office practice, or to specialize in specific types of foot surgery. Additionally, podiatrists have the ability to create custom made orthotics which may be beneficial in correcting certain foot ailments. If you are interested in pursuing podiatry as a career choice, it is strongly suggested that you speak to a podiatrist who can address any concerns you may have.
If you are dealing with pain in your feet and ankles, you may want to seek help from a podiatrist. Feel free to contact Dr. Jeffrey Bruening from Bruening Foot & Ankle. Our doctor can provide the care you need to keep you pain-free and on your feet.
What Is a Podiatrist?
A podiatrist is a doctor of podiatric medicine who diagnoses and treats conditions of the foot, ankle, and related structures of the leg. Your podiatrist may specialize in a certain field such as sports medicine, wound care, pediatrics, and diabetic care. Podiatrists have the ability to become board certified through training, clinical experience, and then taking an exam.
What Do Podiatrists Do?
On a daily basis, a podiatrist may perform the following activities:
Diagnose foot ailments such as ulcers, tumors, fractures, etc.
Use innovative methods to treat conditions
Use corrective orthotics, casts, and strappings to correct deformities
Correct walking patterns and balance
Provide individual consultations to patients
It is very important that you take care of your feet. It's easy to take having healthy feet for granted, however foot problems tend to be among the most common health conditions. Podiatrists can help diagnose and treat a variety of feet related conditions, so it is crucial that you visit one if you need assistance.
If you have any questions please feel free to contact our offices located in Covina and Alta Loma, CA. We offer the newest diagnostic and treatment technologies for all your foot and ankle needs.
Read more about What is a Podiatrist?
Monday, 02 September 2019 00:00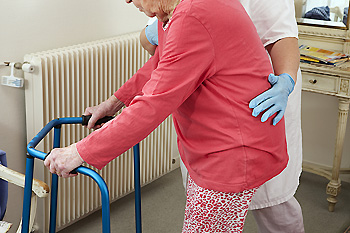 Research has indicated that individuals who are sixty-five years or older commonly fall, which can result in physical injuries. If falling has occurred, elderly people may become fearful of performing daily activities. This can lead to becoming inactive, and depression may occur. There are methods that can be implemented which may help to diminish the risk of falling. These can include having regular vision tests performed, and modifying the home environment by installing grab bars in the bathroom area. Additionally, it is beneficial to remove existing rugs that are loose, and it is helpful to have medications reviewed. If you would like additional information about how falling can affect the feet, it is suggested that you speak with a podiatrist.
Preventing falls among the elderly is very important. If you are older and have fallen or fear that you are prone to falling, consult with Dr. Jeffrey Bruening from Bruening Foot & Ankle. Our doctor will assess your condition and provide you with quality advice and care.
Every 11 seconds, an elderly American is being treated in an emergency room for a fall related injury. Falls are the leading cause of head and hip injuries for those 65 and older. Due to decreases in strength, balance, senses, and lack of awareness, elderly persons are very susceptible to falling. Thankfully, there are a number of things older persons can do to prevent falls.
How to Prevent Falls
Some effective methods that older persons can do to prevent falls include:
Enrolling in strength and balance exercise program to increase balance and strength
Periodically having your sight and hearing checked
Discuss any medications you have with a doctor to see if it increases the risk of falling
Clearing the house of falling hazards and installing devices like grab bars and railings
Utilizing a walker or cane
Wearing shoes that provide good support and cushioning
Talking to family members about falling and increasing awareness
Falling can be a traumatic and embarrassing experience for elderly persons; this can make them less willing to leave the house, and less willing to talk to someone about their fears of falling. Doing such things, however, will increase the likelihood of tripping or losing one's balance. Knowing the causes of falling and how to prevent them is the best way to mitigate the risk of serious injury.
If you have any questions, please feel free to contact our offices located in Covina and Alta Loma, CA. We offer the newest diagnostic and treatment technologies for all your foot care needs.
Read more about Falls Prevention